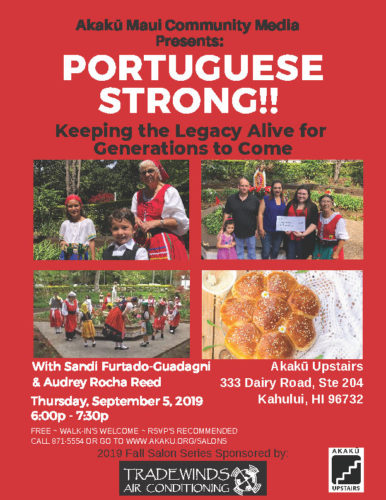 The Akakū Upstairs Fall Season will be underway starting September 5th and will run until November 21st. Our first salon is "Portuguese Strong! Keeping the Legacy Alive for Generations to Come," which takes place on Thursday, September 5, 2019, from 6-7: 30 pm.
Sandi Guadagni, President of the Maui Portuguese Cultural Club, and Audrey Rocha Reed, a charter member of the Portuguese Association of Maui, will share some enlightening history about the Portuguese migration to Hawaii which began in the 1870s. They'll talk about the importance of racial interdependence in island society and the integral role that the Portuguese have played in building the island's sugar industry, as well as their many contributions to local religion, culture, music, and cuisine.
Guadagni is a second-generation Portuguese American and a 26-year Maui resident, who worked as a nurse at Maui Memorial Hospital for almost twenty years. She has been president of the Maui Portuguese Cultural Club for two and a half years. Reed has a long history of involvement in a number of organizations devoted to Portuguese heritage, including the Portuguese Pioneer Civic Association, the Hawaii Council on Portuguese Heritage and Portuguese Centennial Commission, to which she was appointed by then-Governor George Ariyoshi. She also served as President and CEO of the J. Walter Cameron Center for almost three decades and in 2016 helped found Paia's Heritage Hall, a unique partnership between the Portuguese Association of Maui and the Maui Puerto Rican Association.
Salons are held Thursday evenings from 6-7:30 pm in the Akakū Media Lab, 333 Dairy Road, Suite 204, in Kahului, just upstairs from the Akakū TV studios and KAKU Radio. The presentations are taped for cablecast on Akaku Blue Channel 55 and made available for viewing "on-demand" through
www.akaku.org/maui-salon-upstairs-vod/
.
These interesting and informative presentations are admission-free, but please RSVP to Akakū Maui Community Media at
www.akaku.org/salons
or call 808-871-5554 to let them know you are coming.