Want a discount on a class? Click to APA Membership
 INTRO TO AKAKŪ AND PUBLIC ACCESS MEDIA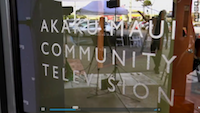 This FREE orientation to Akakū's facilities, services, policies, and procedures provides the foundation for all other video production classes at Akakū. You'll learn why public access TV came to be, how it works, and the role it plays in our community. You will also receive a class handbook detailing Akakū's policies and a tour of the Akakū Studios. This class is a prerequisite for all other TV production classes at Akakū but may be taken concurrently
Free
Dates: Sept 23 | Oct 7 | Oct 21 | Nov 4 | Nov 18 | Dec 2 | Dec 16
Time: 4 pm - 6 pm   Limit 12  (This class is a prerequisite to attending all other classes)
Learning to edit with Apple's iMovie software is fun and simple to learn. And the software comes free with pretty much any Apple device! You'll learn basic editing techniques, tools, tips, and shortcuts. Create your own graphics, titles, and credits. Animate still photos. Add music, voiceovers or special effects. While you'll learn and practice on the desktop version, many of the skills can be transferred to the mobile app, as well. Graduates who join as Akakū members are permitted to reserve and use our editing computers free of charge to produce their own programs to show on Akakū TV.
Classes: 2
Cost: $100 | $80 for APA Members | $25 Youth (12-18 years)
Course Dates: Oct 11 and 12 | Dec 27 and 28
Time: Oct 11 3:00-7:00 pm and Oct 12 11:00 am - 3:00 pm
Instructor: Kat Tracy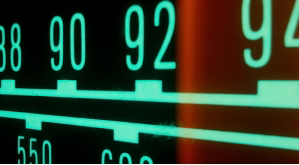 KAKU FM 88.5 is Akakū's low-powered FM talk radio station. If you've ever dreamed of being a radio personality, this class is your first step. You'll learn essentials like microphone handling and how to conduct a live broadcast. We'll go over the FCC rules that govern radio and Akakū's policies and procedures. Members who complete the class, and a few required practice sessions in Studio B, are then eligible to host their own weekly talk show on KAKU.
Free
Dates: Sept 25 | Oct 16 | Nov 13 | Dec 11
Time: 4 pm - 6 pm   Limit 10
INTRODUCTION TO TV STUDIO TRAINING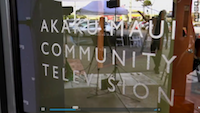 Some of us learn better when we digest smaller amounts of information at a time. So, we've broken down our traditional studio training into segments, or modules, which you can learn one-at-a-time. To get started, take our FREE TV Studio introductory class which will introduce you to the studio environment, its specialized equipment, and the various positions in the studio and control room. It is the foundation on which the four studio skill modules are based.
Free
Date: Sept 25 | Oct 30 | Nov 20 | Dec 18
Time: 5:30 pm - 7:30 pm   Limit 12
STUDIO MODULE 1: LIGHTS, CAMERA & SOUND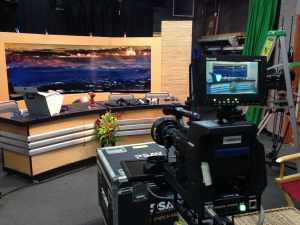 Light is the paint on a filmmakers palette and capturing light in just the right way can turn a mundane shot into a masterpiece. In this hands-on session, you will learn about the different types of stage lights, and how to focus, diffuse and tint them. You will learn the essential camera controls, like white balance, zoom, and focus, and youʻll get to practice shots, angles, and camera moves. Youʻll also become familiar with various types of microphones, their specific applications, and how to adjust them using a mixing board.
Cost: $50 | $40 for APA Members | $25 Youth (12-18 years)
Date: Oct 7 | Dec 2
Time: 5:30 pm - 8:30 pm   Limit 10
STUDIO MODULE 2: COMPUTER GRAPHICS & TELEPROMPTER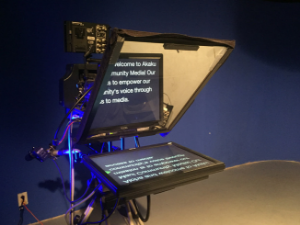 A programʻs opening titles, closing credits, and all of the graphical elements in between that help to tell your story are created by the Compix Character Generator. You will learn how to create and display titles, credits, and "lower thirds," which appear at the bottom of the screen to identify the person talking. The teleprompter allows a scripted speech or performance to be projected onto a one-way mirror mounted to the front of a studio camera, so that the talent can look directly into the lens while they read the script as it scrolls past. Youʻll also learn how to load and edit scripts, and to adjust the prompterʻs scrolling speed to match the readerʻs pace.
Cost: $50 | $40 for APA Members | $25 Youth (12-18 years)
Date: Oct 14 | Dec 9
Time: 5:30 pm - 8:30 pm   Limit 10
STUDIO MODULE 3: PLAYBACK, RECORDING & SWITCHER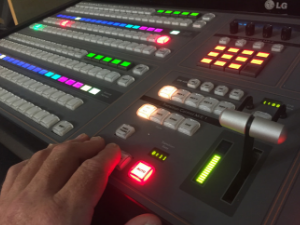 Many studio programs include clips, segments or still photos shot in advance, often on location.
You will learn how to import video clips and photos into the Playback Pro software which we use to ensure smooth playback during a studio broadcast. The switcher allows you to choose which camera or video source will appear at any given moment. It can be used to incorporate "live" broadcasts from the field and to create "chroma-key" effects, which use a green screen background to make it look like your talent is "on location," or to simulate virtual sets.
Students will also become familiar with the two types of digital recording decks that we use to capture studio programs.
Cost: $50 | $40 for APA Members | $25 Youth (12-18 years)
Date: Oct 21 | Dec 16
Time: 5:30 pm - 8:30 pm   Limit 10
STUDIO MODULE 4: PRODUCING & DIRECTING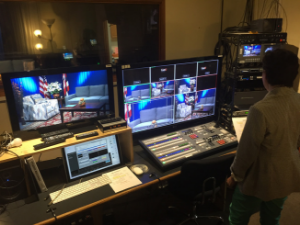 Whether youʻre filming a scripted drama or capturing news on-the-fly, a little bit of preproduction planning can go a long way. Scripting, writing intelligent interview questions, constructing a run-down, and timing segments in advance all help to ensure success in the end. Plus thereʻs the nitty gritty of filling out production proposals, making reservations, recruiting crew, and submitting your finished program. You will leave with a clear sense of what it takes to plan and execute a studio program. Skills taught include directing talent, using hand signals and headsets, timing your show and "calling the shots."
Cost: $50 | $40 for APA Members | $25 Youth (12-18 years)
Date: Oct 28| Dec 23
Time: 5:30 pm - 8:30 pm   Limit 10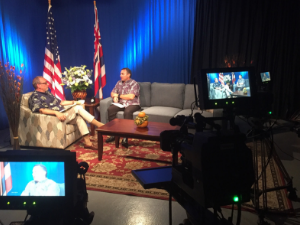 Creating a TV show in Akakū's Studio A is both fun and challenging. Don't be intimidated by all the knobs and switches in the control room. You can learn how to set lights, adjust cameras, test microphones, create graphics, and direct your own show in no time! This intensive, four- day class will introduce you to all of the crew positions and equipment required to produce a simple TV program, ready to air. Plus, we'll touch on fun stuff like "green screen" chroma-key effects, virtual sets, and using a teleprompter. Graduates volunteer on a few shows to gain confidence and then they can reserve the entire studio for their own programs for cablecast on Akakū.
Cost: $200 | $160 for APA Members | $100 for Youth (12-18 Years)
Number of classes in the course: 4
Course Dates: Please check back for new dates!
BASIC VIDEO STORYTELLING AND PRODUCTION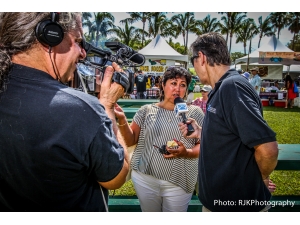 TV production is visual storytelling. Whether your passion is capturing sporting events, community gatherings, news stories, interviews or scenery, there is always a story to be told – and this class will teach you the visual language that TV producers use to tell that story. You'll master the controls on our high-definition digital video camcorders and learn to properly use tripods, microphones, and lights. We'll explore camera angles, composition, news gathering and interview techniques. Graduates who become Akakū members can then reserve and borrow field camera kits to gather their own content "on location" for cablecast on Akakū.
Cost: $300.00 | $240 for APA Members | $150 for Youth (12-18 Years)
Number of classes in the course: 8
Classes start September 3, 2019, from 3:00 pm – 7:00 pm
Classes continue September 6, 10, 13, 17, 20, 24 and 27
Classes start November 1st, 2019, from 3:00 pm – 7:00 pm
Classes continue November 5, 8, 12, 15, 19, 22, 26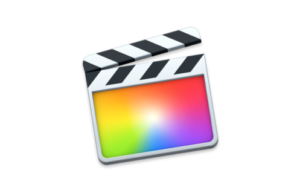 If you want to learn to use the professional software that many Hollywood editors rely on to create films for the big screen and television, this class is for you. Final Cut Pro X is a powerful program that allows maximum creativity when producing video. This class will introduce you to the essential features and techniques that editors employ, which you can then put into practice on the Mac computers in our media lab. You will learn to create titles and graphics, visual effects, transitions from clip to clip, and how to polish your work for broadcast. Graduates who become Akakū members may reserve lab computers to edit their own shows to air on Akakū.
Number of Classes: 4
Course Dates:  Please check back for new dates!