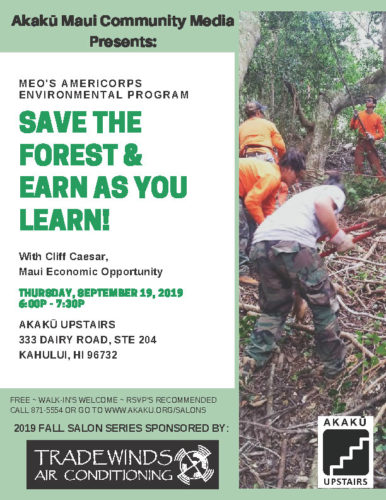 Cliff Caesar will present MEO's AmeriCorps Environmental Program – Save the Forest & Earn as You Learn at Akakū Upstairs on Thursday, Sept. 19, 2019, from 6 pm – 7:30 pm.
He will give an overview of the AmeriCorps program and all it has to offer. Learn how this program will help Maui's Youth, ages 17 and older, to explore training, practice skills needed in the growing environmental and conservation sectors, and experience giving back to the community while being exposed to potential career paths.
This program gives the youth several opportunities to receive education awards upon completion of the program which can be used towards books, tuition and other education costs up to seven years after completing the program. The next program starts in November 2019
Akakū Upstairs is admission is free, walk-ins are welcome, RSVPs are recommended. To RSVP please go to www.akaku.org/salons or call 808-871-5554 to let them know you are coming.
September 19, 2019 @ 6:00 pm - 7:30 pm