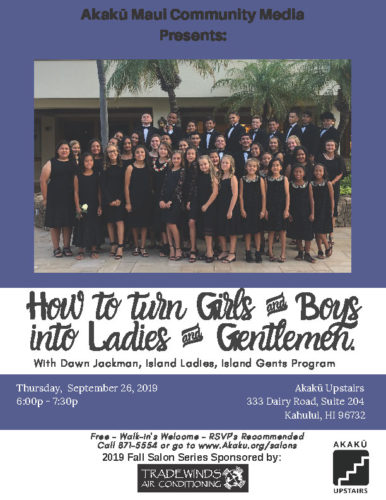 Dawn Jackman is the Director of the Island Ladies, Island Gents Program. She will be presenting this program at Akakū Upstairs on Thursday, Sept. 26, 2019, from 6:00 pm – 7:30 pm.
Island Ladies, Island Gents is part of the Gentlemen By Choice Community Development Corporation's Youth Personal Development and Leadership Program. It targets boys and girls in underserved communities and aims to boost self-esteem and confidence while providing participants with the knowledge, tools and discipline to visualize the opportunities that are available to them.
Participants are empowered to pursue these opportunities through the group's core values of Leadership, Image, Financial management and Etiquette (LIFE). The organization also supports a Hawaiian language immersion group for young ladies here on Maui.
Akakū Upstairs is admission is free.
September 26, 2019 @ 6:00 pm - 7:30 pm