Akakū hosts three 10-week Salon Seasons in Spring, Summer, and Fall during which speakers are scheduled every Thursday evening from 6:00 pm-7:30 pm. Many of the Salons include film segments or slide presentations that are recorded for broadcast later to air on Akakū TV's Channel 55, Sunday at 8:00 pm.
Admission is free, however, we have limited seating so if you would like to reserve a seat, please RSVP with the links below or call 808-871-5554.
If you have an idea for a Salon topic or wish to suggest a public speaker whom you think would be a good presenter, feel free to contact Jena Miller at 808-871-5554 ext. 232.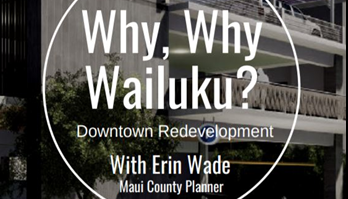 Watch Here...
The county civic center and downtown region of Wailuku town have been on a slow decline for decades as business development moved to Kahului and other areas of the island. Now, funding has been set aside to make improvements to the area surrounding the courthouse and county offices.