Akakū Maui Community Media presents:
MAUI WALK OF HEROES – Saturday, November 9, 2019,
from 2:30 pm – 5:30 pm – Free Admission!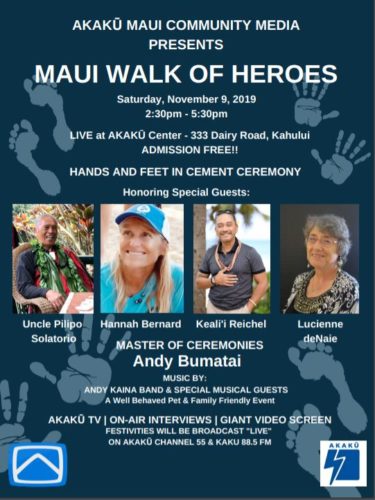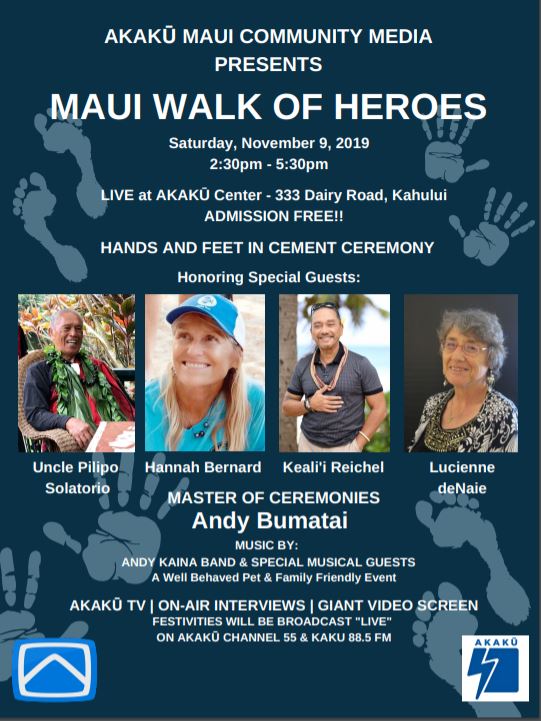 Billed as "The most outstanding Block Party of the year!" Akaku is hosting the 6th Maui Walk of Heroes Celebration on Saturday, November 9, 2019, from 2:30 – 5:30 PM to take place outside of the station at 333 Dairy Road, Kahului.
This year Akaku will enshrine in cement the hand and footprints of four of Maui Nui's favorite heroes: Keali'i Reichel, Hannah Bernard, Lucienne deNaie, and Uncle Pilipo Solatorio
Andy Bumatai will serve as Master of Ceremonies and music by Andy Kaina Band along with other special guests throughout the day.
We host an annual Walk of Heroes celebration for the Maui community to come and share in the joy and dedication put forth by our very own Maui heroes.
Please join us in celebrating this year's Maui Walk of Heroes!